Coming February 5, 2022!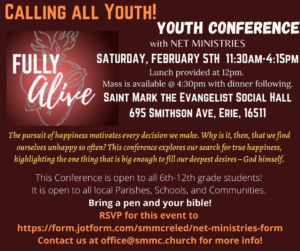 WATCH & PRAY – "Pray at all times in the Spirit, with all manner of prayer. To this end, keep alert and watch, interceding in behalf of all God's people" (Ephesians 6:18).
Praying friends are invited to join in the 2021 prayer walks held the first Saturday of each month, from 9:20-10:30.  Join us as we walk and pray for the well-being of municipalities around the city and county.
Click the link for details on each month's prayer walk. "To the angel of the church (in the Erie area) He says, "Here I am! I stand at the door and knock" (Revelation 3:20). http://prayerie.org/monthly-prayer-walks/2021-prayer-walks/
Following Nehemiah's strategy, let's build and be ready to defend our faith. Now would be a good time to pray along with WCTL Tune your radio to 106.3 to catch the weekday prayer times: 6:35 AM, 11:20 AM, 2:20 PM, and at noon for worship and "Prayer with a Pastor".
Call 814-796-6000 or email info@wctl.org to submit a prayer request.
WHY PRAYERIE
PRAYERIE is an administration of God's love to expand prayer and prepare the way of Jesus Christ in the Erie community!
JOIN THE CELEBRATION
Send an email to cindy@prayerie.org and let us
know of your prayer event. Or tell us your story.
We want to celebrate God's goodness with you and the body of Christ!.
More
Our Core Values
To boost faith in God and advance His kingdom.
To mobilize strategic intercession.
To see foot soldiers of Jesus Christ in positions of influence on every cultural mountain in the Erie community.
More
Coming in Future – more 814 Worship!
Upcoming Events
<!=========Events list Template 1.9.3=========>
January 23 10:00 am - January 23, 2022 10:50 am