Like many of you, I have taken to using this time of sheltering at home to tackle projects I have stumbled over far too long. One such project is cleaning out drawers and closets. The problem is, I keep running across such interesting things! One uncovered gem is the Sunday Living section of the Erie Times News from August 12, 2012. The banner reads:
"INVISIBLE ERIE – Local gems often escape our attention."
I think this caught my attention because for most of my life, Erie area gems had escaped me. My childhood was spent in a small neighborhood north of Waterford where I attended local schools. My husband and I started our married life and had our children in Edinboro. Our family also lived for a few years near the beach in Southern California. I had always liked PA but when the time came to leave CA. let's just say, I was not happy.
My renewed appreciation for the Erie community and attitude adjustment began when I started reading about the history here. God's love for this land and His intention for the people became more and more visible. Apostle Paul wrote in Acts 17:26-28, that God has definitely determined people's allotted periods of time and the fixed boundaries of their settlements and lands, so that they should seek God…. and find Him. I've been trying to see the Erie community as God sees us, and have seen more and more of God in us!
This is some of the history that got me excited about being a part of this community; I hope it piques your interest as it did mine.
Early Explorers: French mapping & staking the land
Frenchmen had trapped beaver and developed friendships with the natives here since the late 1600's. However, when the King of England started selling this same land to British settlers, the French realized their claim needed defending. Pierre-Joseph Celeron was dispatched from Quebec on June 15, 1749, with the purpose of staking a claim for France. His expedition followed the waterway from Quebec to Lake Erie. Putting in near present day Westfield, New York, they slogged their way over the twelve-mile portage (an area requiring men to carry canoes and equipment) between Lake Erie and Chautauqua Lake. Picking up on a well-known native waterway route; their path followed down the Allegheny River, across the Ohio River and connected to the Maumee River which they used to travel north back to Lake Erie. Lead plates were placed at the intersections of rivers as they traveled. One of Celeron's lead plates, discovered in 1846, is on display at the Fort LeBoeuf museum in Waterford. (pictured below)
Returning along the northern shore of Lake Erie, they never saw Presque Isle, described later as, "the most perfect harbor on the lakes".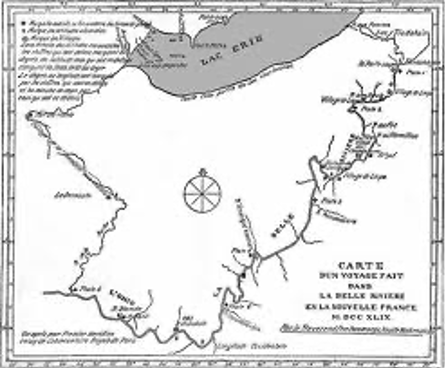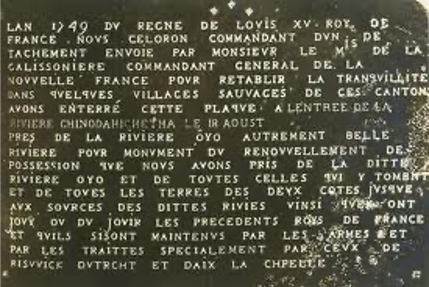 The French staked the land for their country but missed the most perfect harbor. The harbor at Erie, the portage between Erie and Waterford and the waterway from Waterford to the Three Rivers would become a battleground. Later a war was fought (French & Indian War) over who could claim this land and the all-important waterway. The British won the war against the French and Indians and soon after, the American colonists won a Revolution over Britain. However, God was here first, and He says all the land belongs to Him.
"Your land shall be called Beulah [married], for the Lord delights in you and your land shall be called married [owned and protected by the Lord]" (Isaiah 62:4).
"Gem City"
Did you know that Erie was once known as the "Gem of the Great Lakes"? Many establishments around the city bear the remembrance of the nickname, "Gem City". Where did the name come from? Who first recorded this city on the shores of Lake Erie as a gem?
Four years after Celeron's mapping expedition, Canadian Governor Duquesne dispatched another expedition led by Sieur Marin with instructions to build fortresses to protect the portage between Lake Erie and the waterway that provided access to the Ohio River. His original instruction was to build the forts at modern-day Westfield and Chautauqua as had been mapped out by Celeron. But, after the team had set out, Duquesne issued new orders shifting the building site and portage 30 miles to the west. Forts were now to be built at Erie and Waterford. Duquesne justified this shift of portage on information received from a "traveling man" whose name has not been recorded. Amazing! Dates, places and names of men involved around this expedition to establish empire are meticulously recorded. However, the name of the individual who caused Duquesne to make a last-minute significant change in the location of the French defense system remains nameless. Thus, on May 3, 1753, work at Fort Presque Isle was begun and the foundation laid for the future of a city located on the sparkling shores of southern Lake Erie. A city I'm glad to call home!
155 years later, one finds the first written reference to Erie as Gem City. In 1888, Herald Printing and Publishing Company produced, "ERIE, Penn'a. ILLUSTRATED". The inside banner reads,
ERIE A Brief Sketch of the "Gem City of the Lakes."
Beautifully Located
Its Great Wealth and Prosperity
Fine Natural Advantages
Pure Drinking Water
Magnitude of it Many Manufacturing Institutions
Many Millions Invested
Thousands of People Daily Employed
Health and Wealth
Long Life and Happiness for all its Residents
We here in Pennsylvania as in most of the nation, are asked by the government to stay in our homes over the next 30 days in order to continue to stay the course and flatten the curve of the Covid-19 plague. During these next 30 days will you speak words of faith over your families and community? Speak words that reflect God's goodness and kindness. This virus may be invisible to the naked eye, but we see its effect. We also see God's goodness all around; in His creation and in the many acts of bravery and kindness shown by the "helpers." Put your faith in God and speak life! "Let God arise and His enemies be scattered" (Isaiah 60:1).
Blessing to the reader…. cindy