Erie Christian Business & Community Leaders are having breakfast & prayer together the first Wednesday of the month, 7:AM, at the Summit, 8160 Oliver Rd.
"Mix It Up" with Dr. Ken Andryc, 2/2/2022
Erie City Moms with Amanda Burlingham & Shayla Jones 4/6/2022
Children's Rescue Initiative with Bruce Ladebu 6/1/2022
All Church Jesus Birthday Party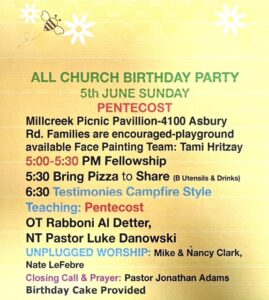 Joshua Revolution '22 with Pastor Mike Chorey 9/7/2022
Federal Release Time Program "Kids Alive" – Pastor Renee' Majchrzak 11/2/22
Kingdom Financial Group on taxes with John Baker 1/4/23
Machine Concepts owner/manager Jim Willets speaking on Jobs For Life, 2/23
Parts manufactured by Machine Concepts are on the Space Station and on the saw that cut the well head in the Gulf Disaster. They are also on fuel regulators in jet airplanes and used in robotic surgery. Who knew? Manufacturing in Erie is still impacting the world!
Gem City Creative with Chris Schroeder on marketing & branding your business. 3/1/2023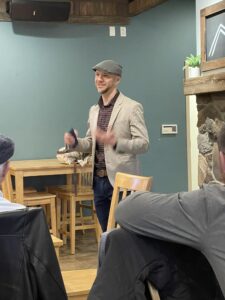 Corner Stone Construction owner/manager Gene Seip sharing best business practice thoughts 4/4/23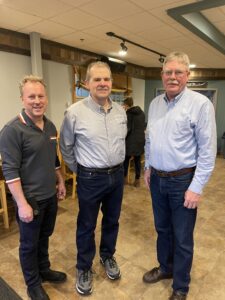 ECBLA Summer Breakfasts are round table discussions.
Prayer Tool Box – Al Detter – January 6, 2021
Good morning friends. Dr. Ken asked me to talk about prayer this morning. It's a good topic as we start the new year.
I'm not going to spend time today telling you what you already know – that the Bible tells Christ-followers to pray as a lifestyle and that there are many illustrations of prayer in the Bible. I hope I don't have to sell you on prayer as part of your lifestyle. Where we often have trouble is in doing it – and when we do pray, we often have trouble doing it with meaning and effectiveness.
By and large, Christians are not people of prayer. Very little prayer happens in the daily lives of most Christians. Only 16% of pastors feel satisfied with their prayer lives and the average pastor spends under 29 minutes a day in prayer. My experience tells me that it's likely much less than that. Now if that's in the pastoral ranks, I shudder to think what it's like in the lay ranks. Last year I got my Moody Bible Institute alumni magazine. The question on the cover was – is your prayer life stuck in a rut.
I've been in prayer ruts over the years. Maybe you have too. But about 20 years ago, I discovered how to get out of a rut. You see, for years I'd try to pray for periods of time. Minutes often seemed like a long time and sometimes it was like talking to myself. It was often words without sensing God's presence. If I wasn't careful, I'd go for several days without meaningful prayer. Well, I finally learned through mentors and experimentation on how to get out of a rut. For me, it was a PRAYER TOOLBOX.
Recently I had some electrical work done at my house. My friend showed up with his toolbox and it was amazing what we accomplished. We'd have been stuck without that toolbox. Likewise, I discovered that I need a PRAYER TOOLBOX in order for me to pray with meaning and effectiveness. So for the next few minutes, I want to share my prayer tools with you. Maybe you'll find something helpful. So what's in my toolbox? I'm going to share 10 tools in my prayer toolbox.
1

Read More
TOOL #1 – AN APPOINTMENT – I need to arrange a daily time with God like I do other appointments. If I don't, it's amazing how the day gets by me. I make appointments for many things – seeing people, going somewhere, doctors, dentists. But there's nothing more important in a day than an appointment with Almighty God.
This doesn't rule out spontaneous conversational prayer throughout the day. BUT, no one can convince me that we can go to the next level with God apart from specified set-apart seasons of prayer.
TOOL #2 – A PLACE – I need a specified, private, dedicated place where I feel comfortable using my tools. It becomes a familiar place, a secluded place, a kind of sacred place. I've had a number of places over the years. They aren't fancy. I've used furnace rooms, remote kind of hidden rooms, and prayer rooms. But I've never done what Daniel did – get on my knees in front of a window 3 times a day for all to see.
TOOL #3 – MY PLANNER – I take my planner and look over my day before the Lord. I pray about the people I'll see, the places I'll go, the activities I'll do. I need to have all that supported by prayer. And then I give over to the Lord the things that aren't on my planner, the things that will happen that I didn't anticipate. God is at work there as well.
TOOL #4 – MY BIBLE – Much of my praying is now Scripture praying. I work through a section of the Bible and pray it. I personalize it. Life-changing. Psalms. Proverbs. Isaiah. Paul! Example.
No better words can be said than the words of Scripture as they become the foundation for prayer. They're much better than the words I generate apart from Scripture.
TOOL #5 – A PRAYER BOOK – This is an incredible tool. There are all kinds of prayer books out there – some by denominations and some by private individuals. When you pray these prayers, you get into the spiritual hearts and minds of other godly people. It's powerful and expanding to use the prayers of others and make them your own!
TOOL #6 – MY JOURNAL – I put my prayer thoughts on paper. The Lord often speaks to me in the prayer moment. I don't want to lose it. This is not me – I don't like journaling. But God has enabled me. Someday my kids will be able to read these journals to see what God and Dad were up to.
TOOL #7 – PRAYER LIST – I keep a notebook of people and categories for intercession. I also use the church directory. I pray through it. So many needs out there. You can spend a lot of time here especially in these days. It's thrilling to see answers to prayer.
TOOL #8 – SINGING – When the Spirit moves me, I sing. I think you can see why I need a remote place. But I do a lot of singing. I've got a lot of songbooks – hymnals and contemporary praise songs. I pray the texts as I sing them.
And sometimes, I create songs. I prayerfully make up a song that's only for that moment. It will not be remembered or ever sung again. But it's very meaningful in the moment.
TOOL #9 – KNEELING – I do a lot of walking around as I pray. But I won't leave my prayer time until I kneel in prayer as an act of submission before Almighty God. There are times I get face flat before God. I have to remind myself every day who He is and who I am. This does that for me. Posture in prayer is important. And I always include 3 specific prayers while kneeling – An Abba prayer, a blessing prayer, and a priorities prayer. Explain.
TOOL #10 – A NOTEPAD – It's interesting how many things come into your mind as you pray – stray thoughts about other things and topics and things coming in the day, etc. Write those things down or you'll forget them. I believe those invading thoughts come as a direct result of praying, not straying. Many times God is speaking to you. You have 1 thing in your mind. He has another.
Well, those are my tools. I use them all frequently but not all of them every day. It's never boring. Time flies – 30 to 45 minutes. After your prayer time, it's amazing how fast the day goes – and before you know it, you're back with God again the next day. I talk to Him just like I talk to people (with respect). "Hi Lord, here I am again." And off to prayer, I go!
Folks, I'm not lobbying for you to do prayer as I do it. I'm lobbying for you to do it regularly and to do it meaningfully and effectively for you! And for you to develop your own prayer toolbox.