2022 Community Connections – Click here for the full calendar: prayerie.org/events/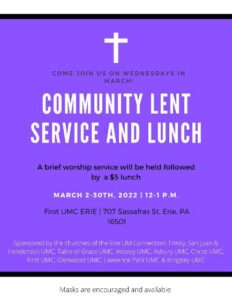 Chi Alpha at Behrend Campus
BEACON OF HOPE TENT MEETINGS! Coming to Waterford, North East, Fairview, & Albion this summer. Click www.beaconofhopeinc.org for dates and locations.
YFC Event Cancelled.
Grace Leadership Institute – 701 Holland St, Erie, PA

The CALLING of a Leader – 6 classes, every Wednesday from 6:00 – 8:00pm – March 2 through April 6
 Course Instructor: Pastor Derek Sanford, Lead Pastor, Grace Church
Course Description:  We are swimming in a sea of leadership. Social media influencers, political authorities, scientific experts, business leaders; and it's fashionable to roll our eyes and dismiss the whole lot of them. But it is much easier to critique leadership than it is to practice leadership. And the truth is every one of us is a leader, called to influence others. Ultimately the ability to positively influence others begins with the heart and soul of the leader. In this class every student will discover how they've been wired to lead by discovering their gifts and style and sphere of influence. It is not a question of "Will you make a difference?" Rather it's, "What kind of difference will you make?"
WATCH & PRAY – "Pray at all times in the Spirit, with all manner of prayer. To this end, keep alert and watch, interceding in behalf of all God's people" (Ephesians 6:18).
From April through August 2022, PRAYERIE will be sowing into the Tent Meetings with our time, talent and prayers. These meetings are evangelistic in nature and are scheduled for Waterford, North East, Fairview, and Albion in 2022. Click the link to find out more about this outreach and how you can be a part of reaching our communities with the good news of Jesus Christ!
Now would be a good time to pray along with WCTL. Tune your radio to 106.3 to catch the weekday prayer times: 6:35 AM, 11:20 AM, 2:20 PM, and at noon for worship and "Prayer with a Pastor".
Call 814-796-6000 or email info@wctl.org to submit a prayer request.

Joel Natalie cuts through the presenting issues to get to the prevailing truths. Ideas, strategy, communication, a true Erie PA booster! Call the show at 814-679-1080! Monday – Friday, 3-6 PM.
WHY PRAYERIE
PRAYERIE is an administration of God's love to expand prayer and prepare the way of Jesus Christ in the Erie community!
JOIN THE CELEBRATION
Send an email to cindy@prayerie.org and let us
know of your prayer event. Or tell us your story.
We want to celebrate God's goodness with you and the body of Christ!.
CONTACT US
Our Core Values
To boost faith in God and advance His kingdom.
To mobilize strategic intercession.
To see foot soldiers of Jesus Christ in positions of influence on every cultural mountain in the Erie community.
About PRAYERIE
PRAYERIE is a move of God that is percolating up out of a well of unity. This new stream started flowing with a collaboration of churches and business leaders who gathered together around the Billy Graham Evangelistic Association Rock the Lakes festival. Since then God has expanded prayer in Erie.
More
Upcoming Events
<!=========Events list Template 2.3=========>
0